I stumbled across this fun parade yesterday and thought I'd join in. Not because I didn't have anything else to post but I just knew you all would want to know even more about me then you already do. Right? Yes?
Alright I confess. She's having some fabulous giveaways and I wanted my shot to win. But you still get to learn more about me in the process! Isn't that exciting? Mmm hmm!

So out of the goodness of my heart, I'm going to answer the very thought provoking questions that Abigail came up with.



1. What's your favorite ti

me of the day, and why?


That's easy. My favorite time of day is early morning before anyone is up. It gives me some much needed quiet time and coffee!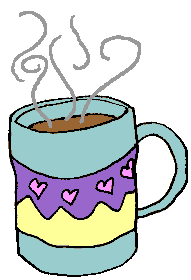 2. If health wasn't an issue, what food could you live off of?
My Homemade Pizza
a
nd chocolate!
3. If you could have one wish granted (beside
s wishing for more wishes), what would it be?
Hmmmm.....just one wish? This is hard. I would probably have to say that I would wish for all our loved ones to come to Christ.
But having a load of money would come in handy too! Sorry, I had to say it cause I was thinking it!
4. What's on
e thing that you get teased about a lot?
I'm 6 foot tall. I don't get teased much! LOL!
5. If you could choose one movie, book, or TV show to spend your life in, which would you pick?
what type of character would you be?
I would probably want to be Lizzie from Pride and Prejudice. She never had to clean or cook and she ended up with a rich bachelor! ( I should note that I'm perfectly happy with my life now! LOL!)
6. If you could have one talent that yo
u don't already have, what would it be?
I would love to be able to play the piano perfectly!
7.If
money were no object, wh
e
re would you
go on vacation
?
I would love to go to Hawaii.
8. If you were an awesome singer, which genre would you sing?
Definitely RAP! Oh I'm so kidding. I hate rap music. I'd love to sing Contemporary Christian or Country.
9. If you could have a $10,000 shopping spree to one store, what would it be?
I see some people are putting Amazon because it covers everything. But is it a store? If I had to pick an actual store that I could walk into, I'd probably pick Bed Bath and Beyond or Costco!
10. If you could live in any point in time, when would it be?
I would like to be a rich princess in medieval times!
11. If every outfit in your wardrobe had to be one color, what would it be?
R
ED!
(I have nothing that resembles this in my closet! LOL!)
12. If you were one of the seven
dwarves, which one
would you be?
Happy! Definitely Happy!
13. What's the last album you listened to?
Album, like in record? Cause that would have had to have been my 1973 Disney record with all the old Disney songs on it. And I think the last time I listened to that was about 8 years ago.
14. What's something we'd be surprised to know about you?
Let's see. What could possibly surprise you about me? How about the fact that my 3rd child weighed 11lbs 2.5 oz at birth and I only pushed for 4 mins. Does that surprise you? Well it did me, my doctor my husband and my best friend!
Now why don't you play along! Join the
parade!
HUGS!