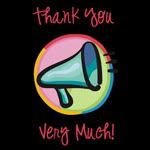 It's Free Therapy Day!! (And those of you who read my blog know that I need it today!)

That's right, it's Thursday, which means it's the Thank You Very Much day. The way it works is that you post your little peeves that may have affected you in some way during the week and say,
Thank You Very Much
in a slightly sarcastic tone.

Are you all ready for this?
Let's see if you can figure out a theme here.


To the lady that signed a contract to buy our home and then back out less than two weeks before closing because of a bogus appraisal and left me with 70+ boxes to unpack

.......Thank you very much!
To our Realtor who was the worst communicator on the planet and left us hanging on more than one occasion......

Thank you very much!
To the appraisal guy who had to have been on appraisal induced drugs when he did our appraisal and totally blindsided us with a low appraisal..... Thank you very much!

(I was trying to say the word appraisal as much as I could. How did I do? LOL!)



To the

big ol' honkin' bar of chocolate just waiting to be eaten and then placed on my hips,

Thank you very much!
Now for some very sincere Thank you very muches! Muches isn't a word but I'm going to use it any way. So all you writers out there, just look the other way.
To my husband, who has been a rock through all of this....Thank you very much!
To my best friend who brought me chocolate and coffee on more than one occasion....Thank you very much!
To all you, that said a prayer for us while we were going through this.....Thank you very much!
To my children who simply went with the flow and didn't question it.....Thank you very much!
And last but not least, I want to thank the Lord who has it all worked out and knows every detail of everything that is going on and why....Thank you VERY much!

I'll be busy unpacking this week but don't worry, Friday Funnies will be up and running tomorrow and I would appreciate you all joining in. Cause I really need to end this sorry week with a good laugh!
So I can expect 263 funnies linked up, right? RIGHT? LOL!
Love you my friends and Thank you VERY much!