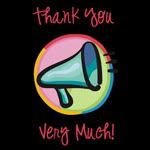 It's Free Therapy Day!! That's right, it's Thursday, which means it's Thank You Very Much day. The way it works is that you post your little peeves that may have affected you in some way during the week and say,
Thank You Very Much
in a less than slightly sarcastic tone.



That's right, I've got some bones to pick with my body this week. Let me know if any of you can relate.
To my eyes, it's not bad enough that I've been near sighted for most of my life but now I can't read up close either?

Thank you VERY much

for that.
To my left shoulder muscle,

Thank you very much

for making it sooo easy to pull these days and making me question just how I get out of bed sometimes.
To the 3 black hairs on my face,

Thank you very much

for asking a few friends over to party, I now feel like I need to shave. (Your welcome for the visual!)

To the varicose vein in my left leg, could you get any uglier,

Thank you very much

.
To the spare tire around my waist, Excuse me but you belong on a car, not me,

thank you very much!
To the bat wings on my arms that won't go away no matter how many tri-cep curls I do,

Thank you very much

.

(Mom I'm sorry for every playing with yours and thinking they were cool when I was little. I completely understand why you got upset! LOL)
Phew, I feel so much better now. Don't get me wrong, I don't go around in a depression about all this stuff, but it is stuff that I've noticed lately with the whole aging process!
As least no hot flashes yet! LOL! Of course I wouldn't know I was having one right now any way it's so hot here.
But just to leave you on an up note, God is good, ALL THE TIME!
Have a
FABULOUS
day my friends.
And if you want to join in on the free therapy head on over to
The Oswald Cuties
to link up.