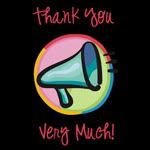 It's Free Therapy Day!! That's right, it's Thursday, which means it's Thank You Very Much day. The way it works is that you post your little peeves that may have affected you in some way during the week and say,
Thank You Very Much
in a less than slightly sarcastic tone.

If you visited my blog within the last 2 days you'll know that I had gone shopping for an outfit for my 40th Birthday Party tomorrow. And thus this post was born. Thank You Very Much!


To all manufacturer of shoes,

Thank You VERY Much

for stopping at size 9.5 when making half sizes. Never mind the few of us who are actually a 10.5 but can't EVER find that size ANYWHERE on a store shelf!
To the few of you who thought that yesterday's blingy red tank top was indeed a dress, you might want to go back and look at the picture once again and remember that I am 6 foot tall,

Thank you very much

. LOL! (It did make me laugh though and you know I love ya!)
To all the store clerks who had the perfect opportunity to tell me that I DIDN'T look anywhere near 40, but didn't, that hurt,

Thank You Very Much

. LOL! (Actually one young gal did comment about me not looking 40 and I'll be shopping there again. LOL!)

To EVERY store in the Mall and all around town, Where is all the red? I wasn't looking for purple or pink or puke mustard. I wanted red and there wasn't a whole lot to choose from,

Thank You Very Much.
To the store clerk who pulled a mini skirt off the rack and actually thought I'd consider wearing it, I appreciate your enthusiasm but, NO WAY, not even in my wildest dreams (

okay MAYBE in my wildest dreams

),

Thank you very much!
To those people who make that thing that you painfully slide over your head and SQUEEZE over you upper body that's supposed to smooth out your, um,

*cough

*, not so flattering midsection, but in return make you feel like a stuffed sausage! I secretly love you,

Thank You Very Much!
Once again I feel soooo much better. You really should try this. It works. LOL!
If you decide to, head on over to
Kmama's
and link up!
Have a fabulous day my sweet friends!
(Don't forget about Friday Funnies tomorrow!)