There has been a buzz around my little corner of blogland lately about Sarah Mae's new ebook called '>31 Days To Clean. I happen to have entered a giveaway for the book on my friend Christin's blog and won. Yay! Christin is having a "31 Days To Clean Challenge" using Sarah Mae's book.  So I took it as a sign and I'm going to jump on into the challenge. It officially starts on May 1, so there is plenty of time to get on board. click on the button below to learn more about that.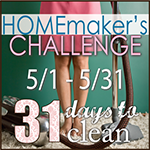 The book itself is only $4.99 and it is very well laid out. You just take one day at a time.
You can also keep informed on  Facebook by "liking" their sites.
31 Days To Clean FB Page
and
Joyful Mothering (Christin's page)
Anybody out there going to do this? Just curious to who's on board.
Have a fabulous day!