You know, it was a pretty good week.
At the beginning of the week I started the 31 Days to Clean Challenge and got a tone done. Love the Mary and Martha Challenges!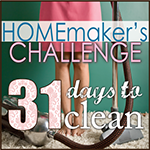 I received my Gooseberry Patch Book and started trying some YUMMO recipes to share for the giveaway.
I also happen to win a giveaway that my dear friend Donna was having. What makes it so special is that it was all about birds. I love birds and use them in my decor'.  So this was just perfect.
  My BFF Kathy gave me the idea of framing the pretty birdie doily. So I spray painted a frame that I had lying around and put a bright green backing on it and Voila! It now hangs on my bedroom wall. I love it! Thanks Donna!
Mother's Day was so special. My daughter made me this breakfast.
She also made the potato salad for lunch and my hubby made burgers and veggies on the grill. But that's not the best part. She also made these for dessert. YUM!
She then gave me a foot massage and painted my toenails. Ahhh! Thank you my beautiful daughter.
My oldest son picked out these beautiful flowers.
Then both of my precious sons surprised me with these little gifts. Snickers? Uh, who likes those? Geesh! Those probably won't even get eaten today.
Thank you my children for making me the proudest Mom in the world. You made me feel very special and very loved.  And thank you to my most excellent hubby for being their transport and in some cases financial lender.
How was your week?
HAVE A FABULOUS DAY!