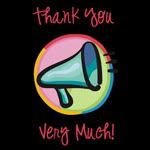 It's Free Therapy Day!! That's right, it's Thursday, which means it's the Thank You Very Much day. The way it works is that you post your little peeves that may have affected you in some way during the week and say,
Thank You Very Much
in a slightly sarcastic tone.
I saw this over at my friend Mimi's and knew I had to give it a shot!
To my sons who think that all the packed boxes are now just flat surfaces waiting to be covered with their toys.
Thank you very much.
To my best friend, who now has me hooked on these new Starbuck's Cherry Coffee drink thingys, thingies?
Thank you very much!
To our mail lady, who I guess is trying to beat her best delivery time by leaving our neighbor's mail in our mailbox therefor forcing us to deliver it for her.
Thank you very much.
To the 3 dove's that have built nests and had babies on my husband's ladder hanging outside the workshop, we're moving and would like to take that with us so could you speed this along a little bit.
Thank you very much.
To the neighbor across the street, could you please keep your cat inside so I don't find squirrel parts under my patio furniture while chilling out.
Thank you very much.
And last but not least, to the telemarketers that call and ask for money for a charity that we've never heard of and when told no, ask why not. It's none of your business,
thank you very much.
Wow! This was very therapeutic. You should try it.
Go on over and visit
The Daily Dribbles
if you want to give it a shot.
LOVE YOU MY FRIENDS!!
Don't forget Friday Funnies is tomorrow. Get your family friendly funny ready to link up!!