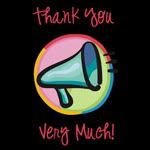 It's Free Therapy Day!! That's right, it's Thursday, which means it's the Thank You Very Much day. The way it works is that you post your little peeves that may have affected you in some way during the week and say,
Thank You Very Much
in a slightly sarcastic tone.


Oh I can't tell you how much I look forward to this Meme every week now. It really is therapeutic.


To my dog who, even though there is a large box where she usually lays (right in front of the bathroom door) she still manages to squeeze in there, lay on her side, fall into a deep sleep and start running along side the box with her nails and waking us up 4 or 5 times last night.....

Thank you very much!
To the guy who decides 3 am is a good time to let off fireworks and scare us half to death, wait long enough for us to fall back asleep and set off another one for a complete hour, we really don't appreciate that

Thank you very much!
To the Florida humidity that just smacks you in the face as soon as you walk outside and makes it miserable to be out there for even a second...

.Thank you very much!
To my youngest son who, since I've unpacked all their toys, decides that they need to be all over my house.....Thank you very much.
To that one mosquito ( you know who you are) that manages to make it inside our home and attack me while I'm at the computer and before I know it I'm itching 4 or 5 bites, you are not welcome here so go away.....Thank you very much.
Ahhh....so much better. Now it's your turn. Go on, try it! It's so FREEING! LOL!
If you want to link up or read more head on over to
Kmama's
.
LOVE YOU MY FRIENDS!