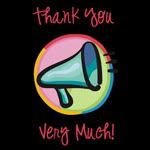 Welcome to another edition of Thank You Very Much.
This is where you get to be a little sarcastic and thank those things or people around you that may have irritated you "slightly" during the week!
It's been awhile since I've done one, so I'm pretty sure I'm due!
AND I'm sure some of you saw this one coming. I'm just sayin'!
To my leather couch,

Thank You Very Much

for making it miserable to sit on when it's hot. Can you say sticky? Ugh!
To my dryer that's right outside my kitchen,

Thank You Very Much

for raising the temperature at LEAST 6.3 degrees when you are running and making it even more miserable hot inside the house.
To our dining room chairs that meet my bare legs during dinner and then refuse to let me up due to the fact that my legs are sweating, give me a break will you,

Thank You Very Much

.
To my morning coffee, why must you taste so good? I'm sitting here with sweat glistening drips of perspiration making their way down my back while I drink you,

Thank You Very Much

!
To the "cold" water that comes out of the pipes, I can't even get relief with a cold shower because you are still at least 84 degrees,

Thank You Very Much

!
Well there you have it. You saw that coming didn't you? LOL!
It had to be done. AND I feel a little bit better.
If you'd like to do a little venting of your own, head on over to
Kmama's
and link up!
Have a FABULOUS day my friends!
HUGS!