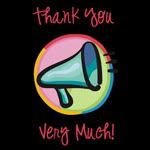 Welcome to another edition of Thank You Very Much.
This is where you get to be a little sarcastic and thank those things or people around you that may have irritated you "slightly" during the week!
After going to the Orlando Science Center, I want to give a big Thank You Very Much to this guy (below) for not making it to my century. Cause I seriously wouldn't want to have to deal with you during rush hour!
A Thank You Very Much to my youngest for hogging our Redneck Pool!
Move over honey, Mama's hot!
To my 8 year old genius. Thank you very much for feeling the need to have about 1000 of these self portraits on the computer!
Some IN focus....
.....and SOME (most) that are not!
And last but not least, I want to Thank this guy, VERY much for knowing where he belongs.
OUTSIDE and not in my house!
Feel the need to "vent" just a little? Then head on over to
Kmama's
to link up your post!
Have a fabulous day my friends!